Our RemoteVisit Virtual Site Inspections are different. Our tours are built with the knowledge of the Hospitality Sales Professional in mind. Rather than creating a general tour with no real Sales information, we provide a tool that can be used by your Sales Managers in a wide variety of different scenarios.
Here is a video demonstration of some key features ...
Video demonstration of our Hospitality tours
Some key features that set us apart...
Qualify Business or Leisure
Your tour can automatically ask each user whether they are BUSINESS or LEISURE – if BUSINESS, it will unlock features specifically designed for Meeting Planning Professionals (such as Capacities Grid, Scene Collector, RFP, and Live Chat) .  If they are a leisure user, it can automatically show them scenes related to fitness, spa, pool, etc.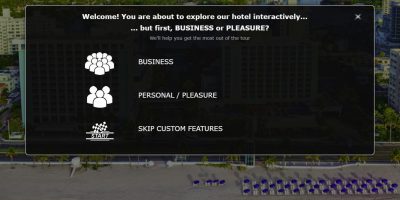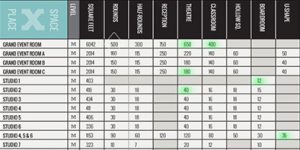 Interactive Capacities Grid
We use your own Meetings Capacity chart and make it interactive! For every meeting room image, either traditional still or VR/360, we create a corresponding highlight area on the grid that loads the scene when clicked.
Interactive Floorplans
Multiple floorplans are used to represent your Lobby Level, Meetings Level(s), and Accommodations. Hot areas within each floorplan identify where still photos, videos, or VR/360 scenes are available – simply click to go there!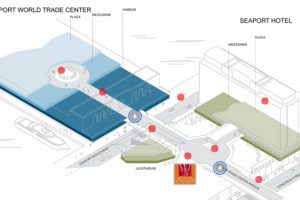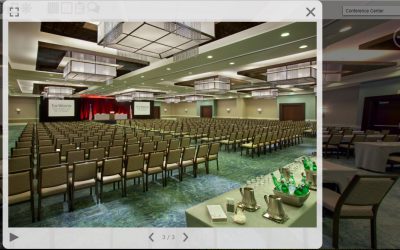 'Flip the Set'…
… within any meeting space that has multiple images, we provide the ability to show the same space set for various seating styles.
Search
Our tours include a comprehensive search engine that will quickly narrow down all matching scenes. Search for specific amenities (such as "pool" or "restaurant"), categories (such as "guest room" or "meetings"), or even a meeting style (such as "classroom" or "hollow square").  All matching images are returned as a scrolling list of thumbnails – click any thumbnail to load the main scene!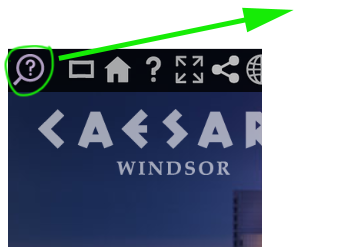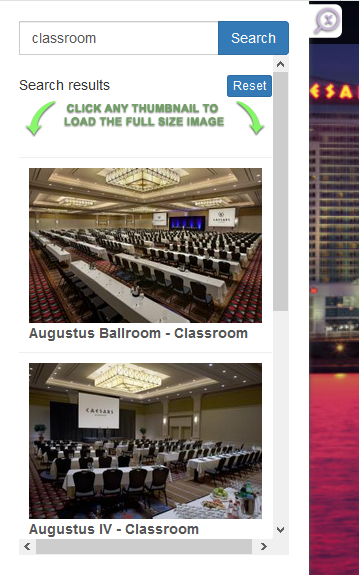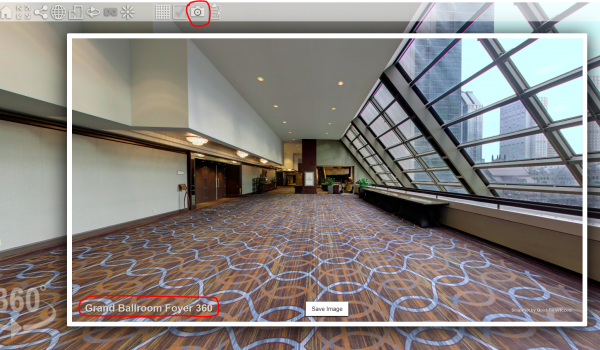 Create and Send "Snapshots"
In any scene, click the Snapshot icon to immediately create a JPG of the current view.  This means that you can rotate any VR/360 scene to the point of interest, optionally zoom in, and then create a snapshot which can be easily sent to your client. The system automatically embeds the scene title in the JPG, thus ensuring your client will be able to easily identify the various images you send. This feature works for both VR/360 scenes and traditional still images.
Scene Collector
You and your Meeting Planner clients can use the Scene Collector in a variety of ways:
● collect scenes to gain access to the high resolution source images
● create notes and/or questions related to each scene collected – automatically send these to yourself and/or your client
● record a custom tour for replay by your client
● flag VR/360 scenes and add captions to create an immersive VR/360 video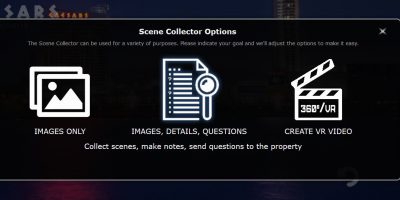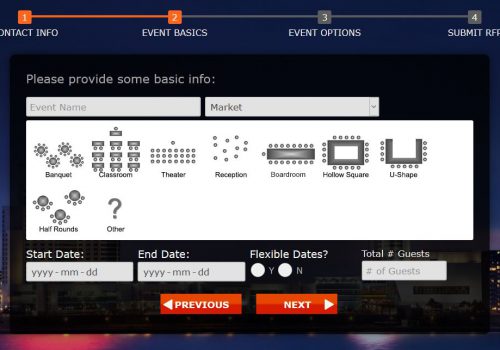 Request For Proposal (RFP) / CVENT Version
If your property already has a dedicated RFP form, your tour will feature a prominent menu button which is linked directly to that form. If you'd prefer to customize your RFP form and have requests sent directly to your team, we will create an RFP to your specifications.  When combined with the Scene Collector feature, you will have comprehensive details required to understand your prospect's event goals. 
In addition to having an RFP directly linked from your main tour, we'll customize a copy of your tour for use in your CVENT profile. Skipping the "BUSINESS or LEISURE" question, this tour will quickly demonstrate how Meeting Planners can get straight to the details within your tour.
Google Analytics
Each tour is inherently linked to a unique Google Analytics tracking ID and we provide you access to the GA reporting engine. This means that you can customize your own reports to see what matters to you!  Want to track the success of a new marketing campaign? You can do that! Want to find out which areas of your property aren't getting the attention they deserve? You can do that too!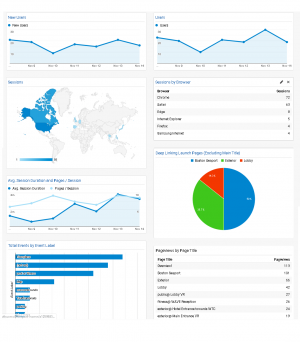 We are confident that you will find our solutions uniquely positioned as the best hospitality sales and marketing support tools available. Contact us today for a remote demo and free consultation!